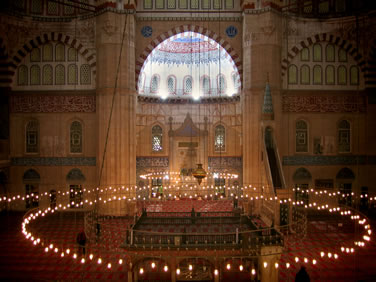 | | | |
| --- | --- | --- |
| | Bahá'u'lláh writes to the rulers of the world | |
Beginning in 1867 in Adrianople and continuing later in 'Akká, Bahá'u'lláh wrote to the kings and rulers of the world, including Emperor Napoleon III, Queen Victoria, Kaiser Wilhelm I, Tsar Alexander II, Emperor Franz Joseph, Pope Pius IX, Sultan Abdul-Aziz, and the Iranian ruler, Nasiri'd-Din Shah.
In these letters, Bahá'u'lláh openly proclaimed His station as a Messenger of God. He urged the leaders to pursue justice and disarmament and exhorted them to band together into a commonwealth of nations, warning them of the dire consequences should they fail to establish peace.
Photo 7 of 9: Interior of the Mosque of Sultan Salim.