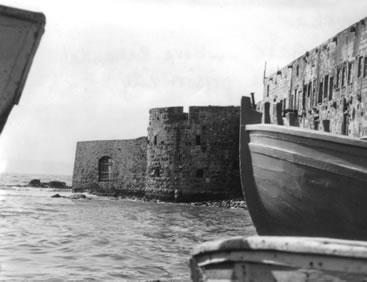 | | | |
| --- | --- | --- |
| | Arrival at the sea gate | |
On 31 August 1868, the exiles were finally brought ashore near 'Akká's sea gate — one of only two entrances to the fortress city.
Despite the rigors of the journey and the scores of citizens who assembled at the port to mock and jeer at the one labeled "The God of the Persians," Bahá'u'lláh stated:"Upon Our arrival, We were welcomed with banners of light, whereupon the Voice of the Spirit cried out saying: 'Soon will all that dwell on earth be enlisted under these banners.'"(15)
Bahá'u'lláh was to spend the rest of His life, 24 years, in 'Akká and its environs.
Photo 2 of 34: The sea gate where Bahá'u'lláh and His companions entered 'Akká in 1868.