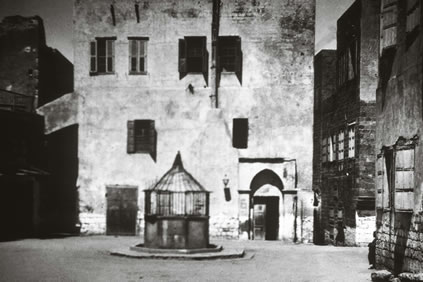 | | | |
| --- | --- | --- |
| | Bahá'u'lláh leaves the citadel | |
Shortly after the death of the Purest Branch, authorities permitted Bahá'u'lláh and His family to move to other quarters – the House of 'Údí Khammár – within the walled city of 'Akká. The rest of the exiles were sent to other locations in the city.
Although their living quarters changed, the exiles were still incarcerated in the prison city of 'Akká. But it was now easier for people to visit Bahá'u'lláh.
Photo 18 of 34: A view of the house of 'Údí Khammár from Genoa Square, located in the rear of the building now known as the House of 'Abbúd. The arched doorway on the right opens to the staircase to the second and third floors.