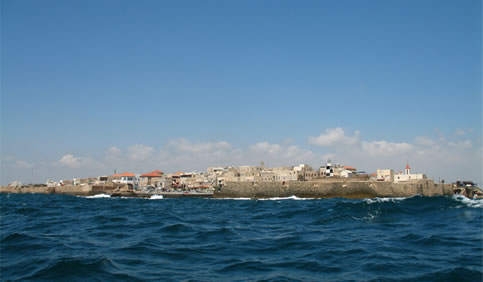 | | | |
| --- | --- | --- |
| | The prison city of 'Akká | |
After brief stops in Smyrna, Alexandria, and Haifa, Bahá'u'lláh and His followers were forced to endure an eight-hour crossing of the Bay of 'Akká (now known as the Bay of Haifa) on a sailing ship.
The daughter of Bahá'u'lláh, Bahíyyih Khánum, later described the trip: "The heat … was overpowering. We were put into a sailing boat. There being no wind, and no shelter from the burning rays of the sun, we spent eight hours of positive misery, and at last reached 'Akká, the end of our journey."(14)
Photo 1 of 34: View of 'Akká from the Mediterranean Sea.