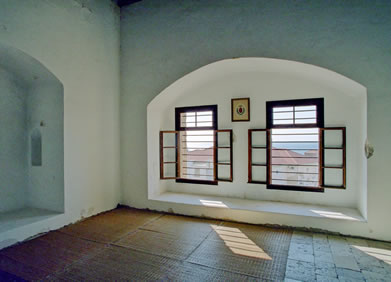 | | | |
| --- | --- | --- |
| | Restrictions eased slightly | |
The first months in the prison were harsh and restrictive, the prison guards interpreting the Sultan's decree rigorously. Bahá'u'lláh was kept under surveillance and was virtually isolated. But gradually, although not a single word of the sentence was changed, the officials began to treat their Bahá'í prisoners differently. 'Abdu'l-Bahá's care of the sick and His concern for the welfare of the prisoners, together with Bahá'u'lláh's demeanor and nobility, so impressed the authorities that they relaxed some of the restrictions.
Photo 12 of 34: A view of the cell of Bahá'u'lláh after its restoration in 2004.