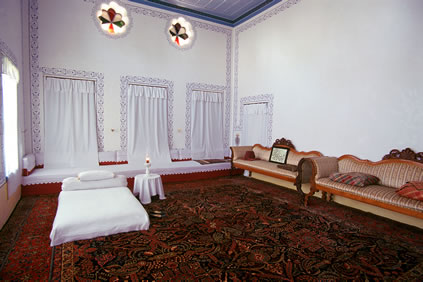 | | | |
| --- | --- | --- |
| | Professor Browne meets Bahá'u'lláh | |
In April 1890 Professor Edward Granville Browne of Cambridge University met Bahá'u'lláh in four successive interviews. Professor Browne wrote of his first meeting: "The face of Him on Whom I gazed I can never forget, though I cannot describe it. Those piercing eyes seemed to read one's very soul; power and authority sat on that ample brow.… No need to ask in whose presence I stood, as I bowed myself before one who is the object of a devotion and love which kings might envy and emperors sigh for in vain."
Bahá'u'lláh stated at that meeting:
"… That all nations should become one in faith and all men as brothers; that the bonds of affection and unity between the sons of men should be strengthened; that diversity of religion should cease, and differences of race be annulled — what harm is there in this? … Yet so it shall be; these fruitless strifes, these ruinous wars shall pass away, and the 'Most Great Peace' shall come.… Let not a man glory in this, that he loves his country; let him rather glory in this, that he loves his kind."(29)
Photo 10 of 10: Room of Bahá'u'lláh at the Mansion of Bahjí.