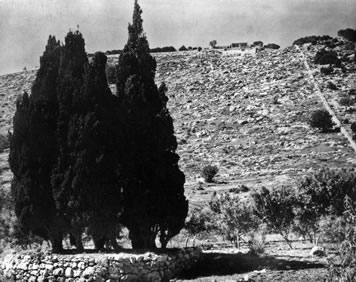 | | | |
| --- | --- | --- |
| | Bahá'u'lláh indicates where the Báb should be interred | |
During His visit to Mount Carmel in 1891, Bahá'u'lláh stood near a circle of cypress trees and showed 'Abdu'l-Bahá where the tomb of the Báb should be built.
The sacred remains of the Báb had been carefully hidden in Iran since His execution in 1850. In 1899, at the instruction of 'Abdu'l-Bahá, they were brought to the Holy Land and, in 1909, 'Abdu'l-Bahá fulfilled his Father's wishes by placing them in their final resting place on Mount Carmel.
Photo 5 of 8: Circle of cypress trees near the Shrine of the Báb.