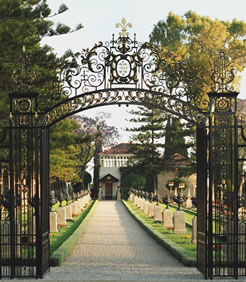 | | | |
| --- | --- | --- |
| | The holiest place | |
Just after sunset on the day He passed away, Bahá'u'lláh was buried in a simple room in a house next to the Mansion of Bahjí. 'Abdu'l-Bahá, and after him Shoghi Effendi, the Guardian of the Bahá'í Faith, lovingly and painstakingly beautified the gardens surrounding the Shrine.
This is the holiest place on earth for Bahá'ís, where they turn to in prayer each day. Pilgrims come from all corners of the globe to pay their respects to Bahá'u'lláh and to rededicate their lives to the noble purposes that He set before humanity.
Photo 3 of 6: Path leading to the Shrine of Bahá'u'lláh.